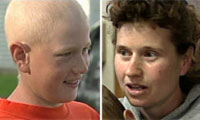 Daniel Hauser (left) and Colleen Hauser.
TUE MAY 19 2009 — Daniel Hauser, 13, didn't show up for the scheduled chest X-ray—required by Minnesota court to show how much the totally treatable cancer, Hodgkin's Lymphoma, had spread while this case was decided in court. Daniel's father, Anthony Hauser, announced that Daniel's mother had absconded with the boy to destinations unknown, possibly outside of the United States to seek alternative care.
A Minnesota judge, John R. Rodenberg, in the Brown County seat of New Ulm issued an arrest warrant for Colleen Hauser, Anthony's mother. Rodenberg also ordered custody of the boy transferred to Brown County Family Services.
Daniel and his parents, of Sleepy Eye, Minnesota, have been resisting chemotherapy treatment for his Hodgkin's lymphoma due to his family's beliefs that favor alternative treatment.
In testimonies, Mary Ann Hauser, Daniel's 16-year-old sister, said she does not know the whereabouts of his mother and brother.
Arlene Schroepfer, the mother of Colleen, testified via telephone that she has not spoken to her daughter in two weeks. She stated that she does not know the whereabouts of Colleen and Daniel.
More …
Newsweek: Parents' Rights, Judges' Rules
Brown County Minnesota Sheriff's Office