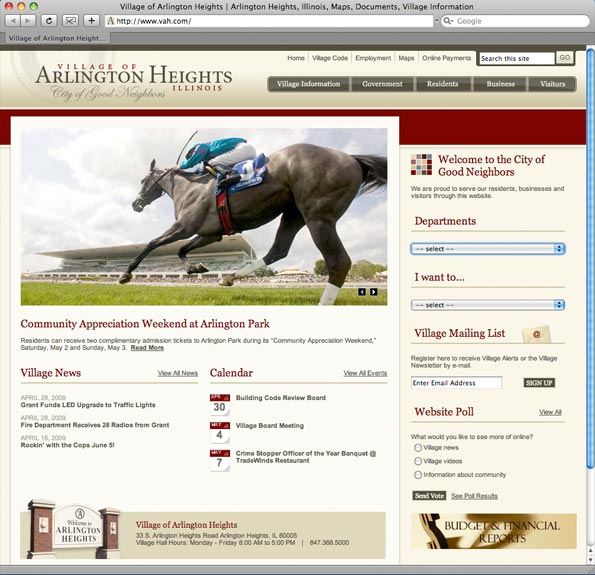 Screen shot of new front page from the official website for the Village of Arlington Heights — vah.com.
The Village of Arlington Heights unveiled a redeveloped and improved website starting in April 2009. The new website has a vastly-improved navigational layout, improved search function and improved organization and styling of web page layouts. The web site design and development was provided by Americaneagle.com Inc. of Park Ridge, Illinois. Americaneagle.com has designed at least 3,000 websites for businesses, associations, government, and Fortune 500 companies. Locally Americaneagle.com has produced for the Chicago Bears, Chicago Transit Authority, the Chicago Auto Show, the United Center and many more.
Like the old website, there is a category for a residential audience and a business audience, a section navigated by drop-down menu for access to department information, and a drop-down menu for task oriented solutions, such as getting financial reports, accessing parking information, paying bills online, viewing the events & meetings calendar, and searching the laws of the village code.
A Forms & Documents section includes at least 292 pdf files of informational handouts, building checklists, employment applications, inspection requirements, planning documents, police alerts, retail space planning information, school boundaries and more.
A new media section includes a video gallery and a photo gallery. The video gallery is categorized by police, fire, general, and Discover Arlington topics. The photo gallery is categorized by village department.
An Employment Opportunities section also includes employment applications and current job openings available in Arlington Heights.