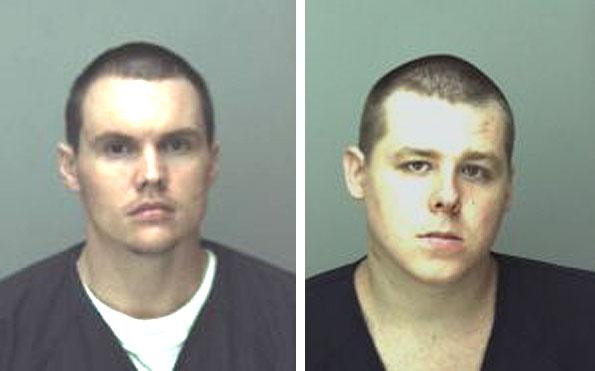 Timothy Wayne Fletcher (left) and Doni Ray Brown (right) mug shot photos.

***
UPDATE: Inmates captured in Putnam County Saturday night. For some reason they returned to Florida and were captured after a telephone call was traced.
UPDATE: A woman in Kentucky is saying she is absolutely certain the two asked her for directions in Kentucky. The woman says at least three men were riding in a black, late model two-door Honda or Toyota Thursday afternoon. They asked for directions to Eminence, Kentucky and also mentioned Indiana. Police are still on the lookout for a red 2003 Oldsmobile Alero stolen from Monroe County.
***
Doni Ray Brown, 23, and Timothy Wayne Fletcher, 25, broke out of the Putnam County Jail in Palatka, Florida at 4 a.m. Wednesday and stole an F-250 pickup truck, and then stole the Lincoln Towne Car of Timothy Wayne Fletcher's step-grandmother, Helen Googe, 66. She was found dead in her home at 315 Bardin Road in Palatka, Florida.
An off-duty Clay County deputy sheriff spotted Googe's car in Jacksonville early Wednesday morning before it was known to be involved in the inmate's escape. He simply thought it was unusual for two young men to be using that model car, so he took note of the car. The Clay County deputy sheriff ran a routine license plate check on the Lincoln Town Car and recognized Googe's name and her relationship with the escaped inmate, Fletcher. He contacted the Putnam County deputies, which led them to a more thorough second check of Googe's home where they found her dead. Florida Department of Law Enforcement (FLDE) so far is calling her death a "suspicious death."

View APB & AMBER ALERTS in a larger map
A search helicopter found the pickup truck near Googe's house at about 5:45 p.m. The Ford F-250 pickup truck is believed to have been stolen by the pair of inmates, who are believed to have stolen the pickup truck from the Louis Tire Shop north of the jail where they crashed it through a metal gate to get away. That pickup truck without license plates was recovered in a heavily wooded area near Googe's home. The escaped inmates may also have attempted to steal a work van before they stole the pickup.
Thursday morning, the Putnam County Sheriff's Office received information from law enforcement officials in Monroe County, Kentucky that the 1999 Gold 4- door Lincoln Town Car, which was taken
from 315 Bardin Road in Palatka, has been recovered in Monroe County, Kentucky.
A 2003 4-door Oldsmobile Alero with Kentucky license plate HPY-796 has also been stolen, and is believed to have been taken by Doni Ray Brown and Timothy Wayne Fletcher. The direction of travel of these two fugitives is unknown at this time but there is speculation that a relative in Indiana could be a target of the two escaped inmates.
The two individuals are considered armed and dangerous.
Brown was arrested Aug. 17 charged with robbery with a firearm. Fletcher was arrested March 3 on three counts of failure to appear on an aggravated assault charge.
More info …
Putnam County Sheriff's Office — pcso.us