A Hispanic man in his 20's was stabbed near his apartment about 3:30 p.m. Monday in the 2100 block of South Goebbert Road at the Tanglewood Apartments. Arlington Heights police quickly responded and found the male victim in his apartment. The attack apparently started outside. Police have several crime scenes, since the crime moved from outdoors into the apartment.
The man was rushed to Northwest Community Hospital. Police are looking for two Hispanic males, one heavyset, about 5′ 9″, was wearing a black shirt with red lettering and blue jeans. The second offender, also about 5′ 9″, was thinner and no clothing description was available. Both had buzz haircuts.

View StreetsofArlington.com Arlington Heights Crime Blog in a larger map
The victim, a known gang member, was walking away from the Tanglewood Apartments leasing office when two alleged gang members of another gang, chased him and stabbed him in the back. He turned, facing his attackers, and was slashed in the forearm.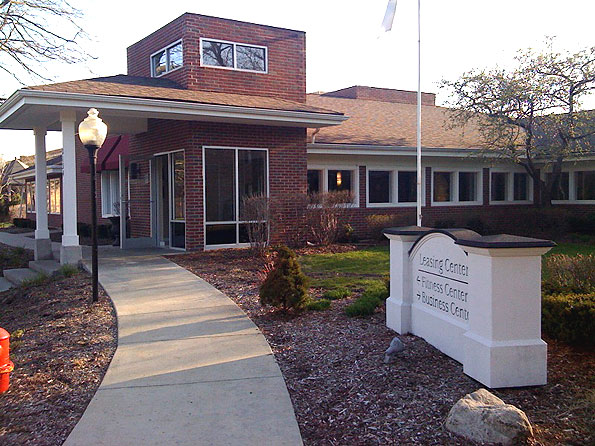 Tanglewood Leasing Office, Clubhouse and Fitness Center.
A gang-related fight in Hanover Park Monday, also resulted in an unidentified 15-year-old male becoming the victim of a stabbing. Hanover Park police said a juvenile was stabbed around 4:30 p.m. near the intersection of Church Street and Redwood Avenue after a fight between two groups of people. The victim was taken to St. Alexius Hospital in Hoffman Estates.