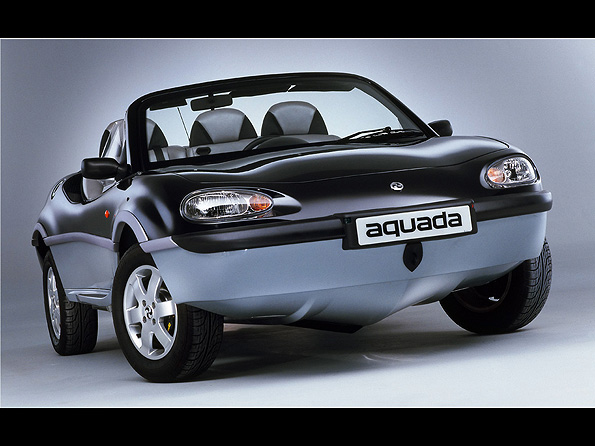 Studio picture of the Aquada aqua car from Gibbs Technologies, Ltd.
Imagine taking this aqua-car up to Lake Geneva or over to the Chicago Air and Water Show at Lake Michigan. Strange news on a day when Chrysler is fighting for its life: the new company bringing amphibian technology to practical use and founded by New Zealand entrepreneur Alan Gibbs is known as Gibbs Technology and has a plant in Auburn Hills, Michigan. The company currently plans to introduce three high-speed amphibians (HSA) in the United States during the next three years, including an all-terrain-type vehicle, a sporty car and a larger sport-utility vehicle. The Aquada is expected to be rolled out or main production in 2009.

Video of Aquada in action
Aquada, a vehicle that combines the handling of a sports car with an ability to travel at land speeds in excess of 100 mph. No slouch on water either, the Aquada broke the previous 9 mph amphibious vehicle speed record by a long shot, clocked at 32.8 mph, driven by Sir Richard Branson (owner of Virgin Atlantic Airways) in 2003. While prototypes sold for $270,000 in Europe, U.S. prices are expected to be $80,000 to $90,000 when the Aquada goes into production.
During tests in Europe and North America, Gibbs prototype amphibians have traveled at speeds of more than 110 mph on land and 45 mph on water. The company's amphibians also have the unique ability to transition from land-to-water or water-to-land in five seconds. Gibbs protects its amphibious-vehicle technology with more than 70 patents and also has a number
of patents pending.
Additional information …
gibbstech.co.uk
gibbstech.com