Punks murder American hero's dog.
UPDATE: MICHAEL EDMONDS TURNED HIMSELF IN TUESDAY MORNING, APRIL 07, 2009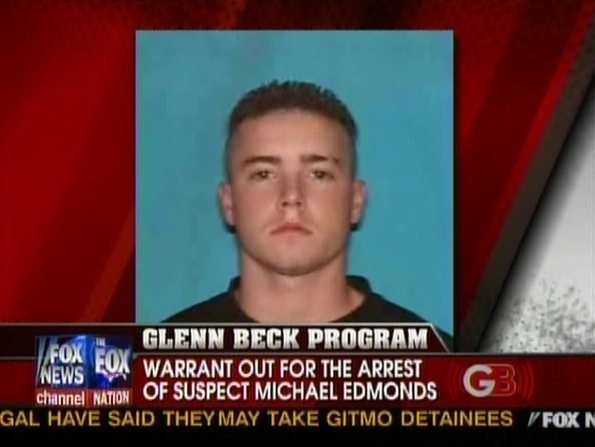 Mug Shot photograph of Michael Edmonds wanted for investigation of shooting death of multiple dogs in or near Huntsville, Texas.
APR 06 2009 — Warrant out for arrest of Michael Edmonds for the shooting death of Marcus Luttrell's yellow lab, DASY. Each letter D A S Y represents one of the members of Marcus Lutrell's Navy SEAL team.
If you have any information about the whereabouts of Michael Edmonds, call the Texas Rangers, Huntsville, TX (Texas Department of Public Safety) 936-435-0152. Ask for officer Steven Jeeter.
Another number given out Tuesday for those who might offer helpful information about this investigation is the Walker County Sheriff's Department … 936-435-2400.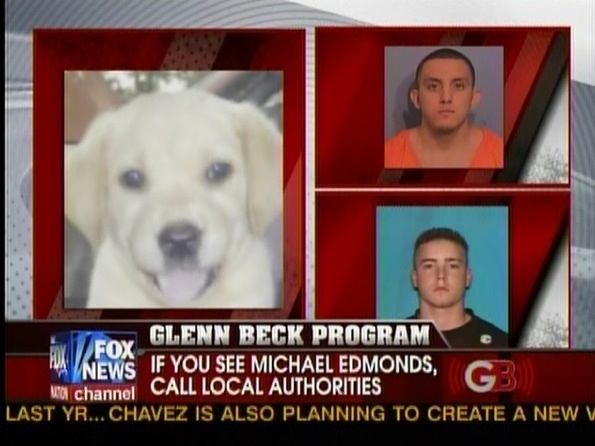 Two Suspects connected to death of Marcus Lutrell's dog DASY. The suspect (Alfonso Hernandez) in the upper right of the television image is in custody.
On Thursday about 1:00 a.m., Marcus happened to be awake and he heard a gunshot. He lives on a ranch with his mother in Texas. Luttrell grabbed his gun and went outside to find four young men 18 to 24 years old. They had just shot his dog, DASY, who was given to him in recovery to help him through the recovery process of returning from combat in Afghanistan.
The Navy SEAL did not shoot the offenders, but a truck-car chase began at speeds of about 100 mph that crossed four counties until a police road block stopped the offenders. During the chase Michael Edmonds got away.
FINAL UPDATE:
On March 7, 2012, Alfonso Hernandez was given the maximum sentence of two years in a state jail for the felony charge of animal cruelty and fined $1,000. After his guilty plea and testimony against Hernandez, Michael John Edmonds was sentenced to five years probation and fined $1,000 for the same offense. At the sentencing, Luttrell testified that he was "still pretty upset" about the killing of DASY and that he felt both defendants should have gotten the maximum sentence
MORE INFORMATION …
For more information on this crime, Glenn Beck is covering this story extensively …
Teen Punks murder American Hero's dog
See also …
Marcus Luttrell on Wikipedia …
Marcus Luttrell is now a rancher and author …
Lone Survivor by retired Navy SEAL Marcus Luttrell (Buy it on Amazon …
)