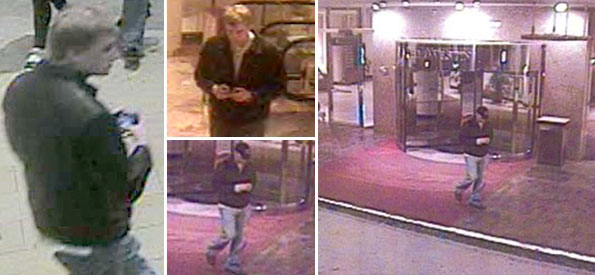 Hotel surveillance video camera images of "Craigslist Killer" suspect — a young, clean-cut looking man with blond hair.
***
UPDATE 4/20/2009 9:45 PM:
A Boston University medical student was arrested Monday for the shooting death in the Marriott Copley Place hotel of a masseuse and the robbery of another woman in Warwick, Rhode Island. Both women offered their services on Craigslist.
Phil Markoff, 22, was arrested during a traffic stop Monday afternoon on Interstate 95 in Walpole, south of Boston, according to Police Commissioner Ed Davis, speaking at a news conference to announce the arrest. Markoff is also a suspect in an assault on a Las Vegas exotic dancer in a Warwick, Rhode Island Holiday Inn last week.
***
Woman tied up and help up at gunpoint could be the latest victim of the "Craigslist Killer"
Two attacks in Boston and one in Warwick, Rhode Island in the last few days may be related.



MURDER VICTIM: Julissa Brisman modeling photo (face shot and MySpace full body shot).
Julissa Brisman murdered in a Boston Hotel Tuesday night. Julissa Brisman, 26, was killed at the plush Marriott Copley Place hotel, apparently by a man who answered her ad for massage service on Craigslist. Police state that Miss Brisman was advertising masseuse services on craigslist. She was shot several times in the torso and found in the doorway and hallway in front of her hotel room.
Before the Brisman murder, a woman was attacked at the Westin nearby where the attacker had also responded to an ad on Craislist. The woman at the Westin survived.
Last Thursday night, a 26-year-old woman was attacked at a Holiday Inn in Warwick, Rhode Island and also survived. The victim, who also advertised on Craigslist, described her attacker as a tall white male in his 20s, wearing a dark jacket and jeans.
Recent controversies involving Craiglist …
March 22, 2009: Radio news reporter George Weber was allegedly murdered by a 16-year-old boy in Brooklyn. The two had met on Craigslist. Weber had listed that he was looking for 'rough sex.'
March 5, 2009: Cook County, Illinois Sheriff's Department files a lawsuit against Craigslist, accusing the site of "knowingly promoting and facilitating prostitution" in its "erotic services" advertisement section.