Video of the accident scene at the Family Christian Stores where a Buick crashed through the store window.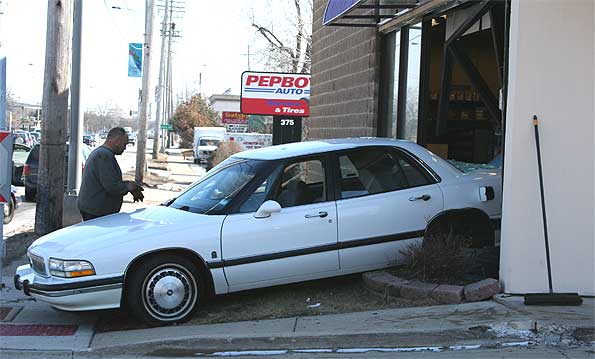 A white Buick sedan rests in the store window sill of the Family Christian Stores.
A two-car accident resulted in one of the cars crashing through the Family Christian Stores in the 300 block of East Rand Road. A white Buick sedan and a mini-van collided and the Buick spun backwards into the Christian bookstore about 1:00 p.m. Wednesday.
At least two people were injured. Arlington Heights Fire Department paramedics transported two victims to the hospital — both believed to be from the vehicles. Rand Road was shut down for about thirty minutes while crews removed the car from the store. Precautions were taken with a fire engine with a charged hose line in case a fire started while the car was pulled out of the building by the tow truck operator.
Last week a single car accident involved a Lexus SUV crashing into The UPS Store at the same shopping center at the corner of Rand Road and Arlington Heights Road.