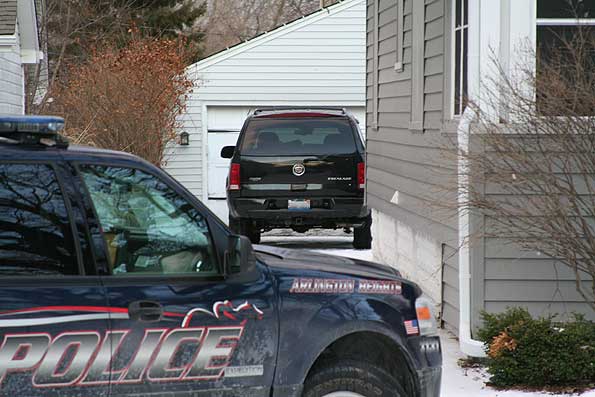 Arlington Heights Police used their SUV to block the driveway to prevent the escape of a black Cadillac Escalade in the 500 block of North Belmont Avenue Monday afternoon.
Arlington Heights Police responded to the scene of a domestic disturbance in the 500 block of North Belmont about 4:30 p.m. Monday. Police found a male involved in a domestic disturbance who would not respond to police calls while he was inside a Cadillac Escalade with tinted windows parked on the driveway.
Several police squads and officers armed with rifles and body shields surrounded the house on Belmont Avenue and nearby streets to cover a perimeter while they assessed the situation and attempted to communicate with the man in the Escalade by public address speaker and by telephone.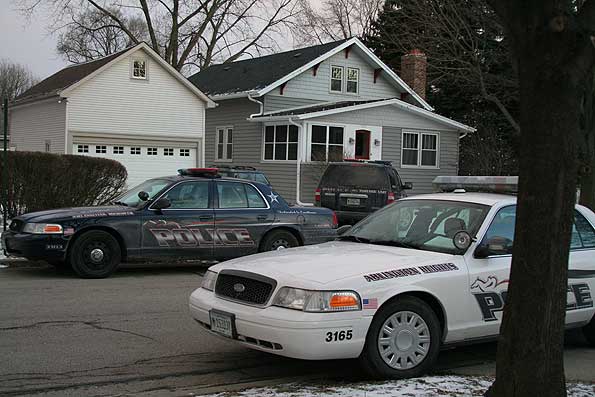 Arlington Heights Police surrounded a male who was an apparent threat in a domestic dispute and successfully placed him in custody Monday about 5:00 p.m.
When the man did not respond to commands to communicate, an officer with a non-lethal weapon prepared to use the non-lethal weapon to resolve the standoff. Apparently the non-lethal weapon was not discharged and the man was placed in custody just after 5:00 p.m. Monday.