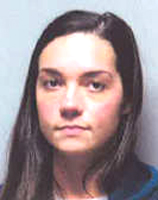 Sarah Tolzien photograph.
Arlington Heights Resident Sarah Tolzien, 24, a Language Arts teacher at Rich South High School was charged Tuesday with felony sexual assault for engaging in sex with a 16-year-old male student on two occasions in November, according to the Matteson Police Department.
The sexual activity between Tolzien, a cross country team coach, and the boy, a member of the cross country team, occurred in Matteson while she gave him rides home on Nov. 14 and Nov. 17, 2008, according to police. The activity was detected by the boy's mother when she saw text messages on the boy's cell phone that were sexual in nature and notified the police in November 2008.
A Sarah Tolzien has been known to have attended Christian Liberty Academy and Hersey High School in Arlington Heights, but Sarah Tolzien, 24, the teacher at Rich South High School has not been matched to the identity of the Arlington Heights student with the same name … developing …