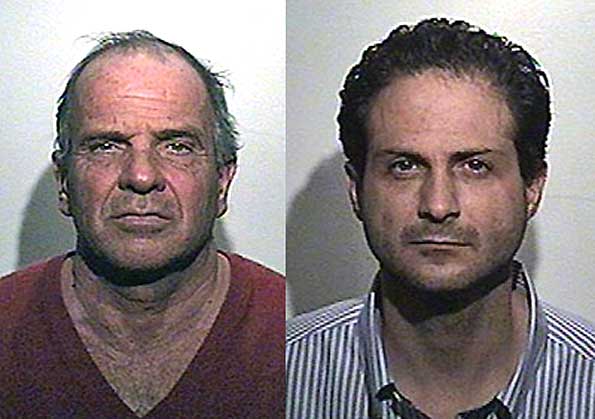 Mario Rainone (left) and Vincent T. Forliano, burglary suspects.
Ex-convict/mob extortionist Mario Rainone, 54, from Addison, and convicted burglar Vincent T. Forliano, 39, from Bloomingdale, were arrested Saturday for burglarizing a Lincolnshire home on Trafalgar Square. The suspects had been under surveillance by police officials.
Other suburban police departments are participating in the Lincolnshire investigation for numerous burglaries in suburbs in Lake, Cook and DuPage counties.
In 1992, Rainone pleaded guilty to six counts of racketeering and extortion in federal court. Prosecutors accused Rainone of demanding cash on behalf of Chicago organized crime, including Francesco's Hole in the Wall Restaurant, formerly located in Wheeling, but now located in Wheeling. He was sentenced to 17.5 years, but was released early on December 22, 2006.
Related Information …
Federal Bureau of Prisons Inmate Locator
MARIO RAINONE INMATE LOCATOR RECORD