UPDATE December 21, 2010 … Russell Cole, president of Chip Factory, received a 15-year sentence Monday. Abby Cole received three years' probation after telling the judge she needed to care for two of her children and aging mother.
Cole's co-conspirator and Best Buy vendor relations manager, Robert Bossany, who was fired by Best Buy, received 7 1/2 years. Bossany got credit for working with investigators to record conversations with Russell Cole and his wife, Abby.
UPDATE June 03, 2010 … A federal jury in Minneapolis convicted Illinois couple Abby Cole and Russell Cole of defrauding Best Buy out of more than $41 million and failing to pay taxes on their fraudulent gains.
UPDATE July 20, 2009 …
A federal grand jury in Minnesota on July 20, 2009 charged Deerfield couple Abby Cole and Russell Cole in a $40 million fraud against the retail giant Best Buy, according to a 21-count indictment. The couple's Chicago lawyer, Shelly B. Kulwin, says they will appeal.
The Chip Factory, founded in an Arlington Heights home by Abby Cole, allegedly swindled Best Buy of more than $31 million while bidding on supplying computer parts and then manipulating final prices.
Abby Cole founded The Chip Factory in 1988 in the basement of her Arlington Heights. After a divorce, she married her second husband, Russell Cole, a senior vice president at Cole Taylor Bank in Wheeling. After moving from Arlington Heights, the business was located in Deerfield, Illinois.
Fast forward to 2008. Working together, the IRS and FBI investigators charge that about $14 million of $15.5 million income from 2003 to 2007 was acquired via fraudulent business. Best Buy hired internal investigators and contacted federal investigators after evidence showed that Best Buy paid Chip Factory $41.6 million more than the company originally bid. Best Buy operated its own online system and participated with an intermediary service (National Parts Service) that involved nine approved vendors that were permitted to submit bids online. Chip Factory would win the low bid on a part and then via a security flaw would log back into the National Parts Service system and modify the price to an amount hundreds of dollars greater than the original bid.
Robert Bossany, a former Best Buy vendor-relations employee who plead guilty to conspiracy and money-laundering charges related to the Chip Factory case, told federal investigators that Cole referred to his and his wife's $2 million custom home as "the house that Best Buy built." Bossany allegedly covered for inflated prices that other Best Buy employees discovered. Bossany and Cole would just claim the incorrect prices were just honest mistakes.
Property seized from the Coles in late 2008:
Aston Martin Two-door
Bentley convertible
Two Ferrari coupes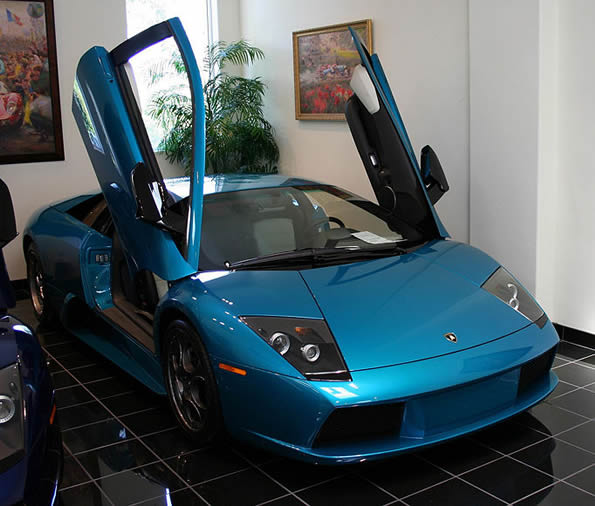 Lamborghini Murcielago convertible
Lexus convertible
Mercedes-Benz S550 sedan
Ford Mustang Cobra
Two Porsches
In 1996, Abby Cole claimed to be computer illiterate and a rare user of the Internet, even though her company had its own Web site. Popular use of the web browser on the Internet was in early years in 1996. One of the first browsers on the Internet, Netscape Navigator, was released in 1994.
Abby and Robert Cole have not been charged with any crime, as of February 24, 2008 …
Photos from this article are licensed under the Creative Commons Attribution ShareAlike 3.0 License. In short: you are free to share and make derivative works of the file under the conditions that you appropriately attribute it, and that you distribute it only under a license identical to this one. Official license …