Promotional video of Carbon Motors E7 from Carbon Motors.

Video showing the Carbon Motors E7 Police Car (concept car) driving.

Video of Carbon Motors E7 police car at the 51st San Francisco Auto Show, November 2008.
The Carbon Motors 2008 Pure Justice Tour comes to an end in Tampa, Florida on December 18th and 19th, 2008. The new police car, not yet in production, is described as a purpose-built vehicle dedicated to the job of a police officer and designed to overshadow the aftermarket retrofits of retail police cars offered currently.
Carbon Motors is striving to attend to the major issue that 50 percent of police officer injuries occur in the vehicles they drive due to crashes or while managing combative subjects. Aftermarket adjustments to today's police vehicles don't necessarily meet the crash testing standards of the National Highway Transportation and Safety Administration (NHTSA), but the Carbon Motors E7 is expected to meet or exceed all federally mandated safety and operational regulations when it leaves the Carbon Motors factory.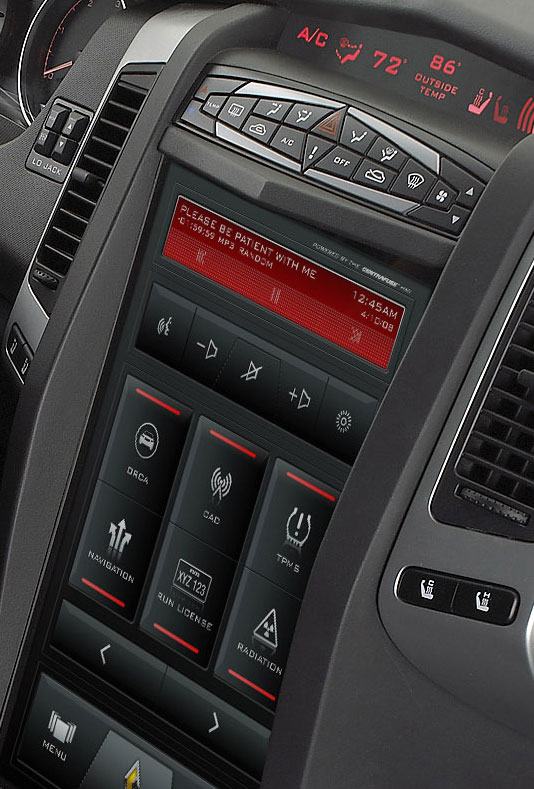 Upper dashboard display and controls for the E7 includes auto license plate recognition.

Displays and controls between seats and at lower dashboard includes siren and light controls and keyboard entry.

Vehicle Specifications provided by Carbon Motors — as of December 13, 2008
POWERTRAIN / CHASSIS

Engine
Forced Induction 3.0 Diesel
Recommended Fuel
Ultra-low sulfur (ULS) Diesel or BioDiesel
Driveline
Rear-Wheel-Drive
Horsepower
300 bhp
Torque
420 lb-ft
Transmission
6-Speed Automatic
Front Brakes
14″ Vented Discs, ABS
Rear Brakes
13″ Vented Discs, ABS
Wheels
18 x 8″ Steel
Tires
245/50R18
Front Suspension
Struts, coil springs, anti-roll bar
Rear Suspension
Multi-link, coil springs, self-leveling shocks, anti-roll bar

DIMENSIONS

Wheelbase
122.0″
Front Track
66.9″
Rear Track
66.9″
Overall Length
200.0″
Overall Width
78.0″
Overall Height
64.2″
Ground Clearance
7.0″
Curb Weight
4000 lbs
Weight Distribution (front/rear)
50% / 50%
Front Headroom
40.0″
Rear Headroom
38.5″
Front Legroom
45.0″
Cargo Volume
20.0 cu ft
Fuel Capacity
18.0 gallons

PERFORMANCE

0 – 60 mph
6.5 seconds
Quarter Mile
14.5 seconds @ 98.0 mph
Top Speed
155 mph
Braking 60 – 0 mph
125 feet
Lateral Acceleration
0.85 g
Combined City/Hwy Fuel Economy
28 – 30 mpg

SELECTED FEATURES AND OPTIONS

All-new purpose-built vehicle platform exclusively for law enforcement

Meets or exceeds all regulatory requirements
Designed to 250,000 mile durability specification
Turn-key built-to-direct-order – 24/7/365 call center support
Turn-key end-of-vehicle-life process
Comprehensive warranty
Aluminum spaceframe body structure
75 mph rear impact crash capability
Cockpit with fully-integrated factory fitted law enforcement equipment
Integrated emergency lights, spot l
ights, take down lights, and directional stick
Segment exclusive coach rear doors for safer suspect ingress and egress
Vehicle dynamic control
Anti-lock brakes
Optimized approach / departure angles and ground clearance
NIJ Level III-A (or better) ballistic protection (front doors and dash panel)
Purpose-designed seat for use with on-body equipment – Heated and ventilated seats
Heads up display
Reverse backup camera
Remote start capability
Driver specific intelligent key
360 degree exterior surveillance capability
Automatic license plate recognition system (ALPR)
Video and audio surveillance of rear passenger compartment
130hz – 350hz bass siren
Nightvision compliant interior illumination
Integrated forward looking infrared system (FLIR)
Integrated shotgun mounts
Optimized storage capability (compartment and cargo)
Integrated front and rear passenger compartment partition
Hoseable rear passenger compartment
Integrated push bumpers and Pursuit Intervention Technique (PIT) capability
Bold highlighted items of special interest.

3D rendering of the Carbon Motors E7 police car.

Federal Signal is featured on the Carbon Motors E7 concept car.
More info …
Carbon Motors (official site)
Federal Signal
Wikipedia: Police Car
Wikipedia: Police vehicles in the United States and Canada
Wikipedia: E7 (car)
Wikipedia: Black and White (slang)
Wikipedia: PIT maneuver
Wikipedia: Automatic License Plate Recognition