View Larger Map of fatal hit-and-run near Elmhurst Road (Route 83) and Willow Road, where hit-and-run suspect was last seen leaving westbound on Willow Road.
Prospect Heights Police have identified a Mount Prospect teen who called police to report that someone damaged his car Saturday night. That report took place about one hour after 11:00 p.m. accident that killed a Hersey High School sophomore. Kevin Schuh, 17, was taken into custody after police were able to put together pieces from the accident scene matching the vehicle damage reported by Schuh, also a Hersey High School student. Police observed that Schuh had glassy, bloodshot eyes, slurred speech and apparently smelled of alcohol. A breathalyzer test at the police station measured more than one hour after the accident measured a blood alcohol conent (BAC) of .06. At about 3:00 a.m. Sunday, Schuh confessed to hitting Skrzypkowski with his car. He left the scene and stopped later to remove beer and liquor from his vehicle — leaving the items on a front lawn of a home in the area. Questioning also revealed that he arrived at a party in the 200 block of West Kenilworth Avenue at about 6:00 p.m. carrying four cases of beer and a gallon of Vodka. He was also out driving at 9:00 p.m. to get more beer. Through the night Schuh consumed seven beers and a vodka drink at the party on Kenilworth. Kevin Schuh was charged with a Class 2 felony: aggravated DUI causing bodily harm or death; and a Class 3 felony: reckless homicide. If found guilty and sentenced to a term of imprisonment, an offender could be sentenced to a term of not less than 3 years and not more than 14 years.
Monika Skrzypkowski, 15, of Arlington Heights was apparently struck by Schuh's vehicle near North Elmhurst Road and Kenilworth Avenue about 11:00 p.m. Saturday. The Hersey High School sophomore had just called her mother for a ride home and was going for a short walk while she waited for her mom to come pick her up from a boyfriend's family birthday party.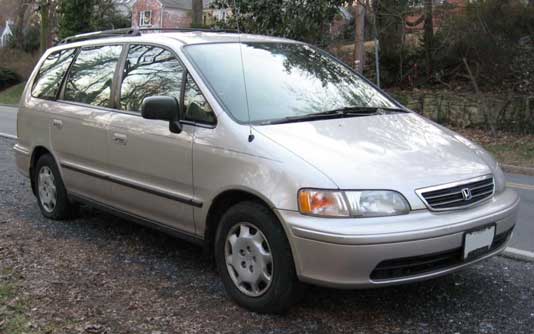 Honda Odyssey file photo.
Witnesses reported that the vehicle that struck Monika was a silver Honda Odyssey minivan — the driver fled westbound on Willow Road from Elmhurst Road. The force of the accident in a northbound lane of Elmhurst Road knocked out a headlight from the minivan with one headlight and frame remaining at the scene of the accident. Police located the car and suspect Sunday morning.
Monika Skrzypkowski was transported to Northwest Community Hospital where she was pronounced dead. The Cook County Medical Examiner's Office reported Monika died of multiple injuries from the accident.
More info …
Facebook: R.I.P. Monika