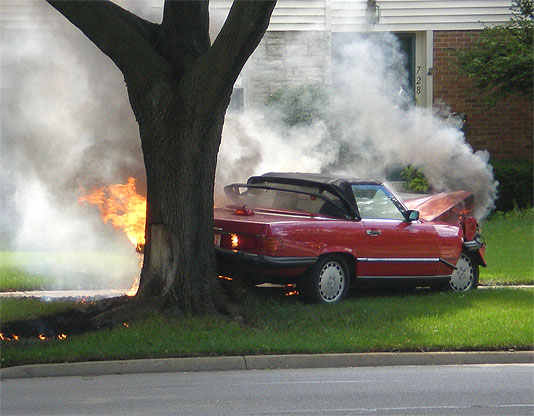 Mercedes Benz on fire near the gas tank immediately after hitting a tree
on Dryden (Photos courtesy Sabrina W).
A teenage driver made a left turn from eastbound Hawthorne to go north on Dryden, but missed the turn and hit a tree on the east side of Dryden at 709 North Dryden about 4:00 p.m. last Thursday. The impact caused severe front end damage to the teenager's red Mercedes convertible, but the car bounced off of a tree and mailbox and traveled back across Dryden to the west side of Dryden, up a driveway at 714 North Dryden and on to the sidewalk. Neighbors reported that the car engine was whining in a high gear, but that the car was traveling slowly about 5 miles per hour down the sidewalk with the driver struggling to control the car. The car was leaking fluids along the way and smelled of something burning. A neighbor yelled to the driver to turn off the ignition, but the car continued north — passing 728 North Dryden for about 30 feet. Then the car went into reverse and backed up down the sidewalk and rear-ended a tree in the parkway in front of 728 North Dryden. A neighbor helped the teen out of the car and the car burst into flames and an explosion was heard from the rear of the car.
Arlington Heights Fire Department firefighters and paramedics responded and quickly put out the car fire and checked for injuries. The driver suffered only minor injuries. Arlington Heights police are investigating the accident.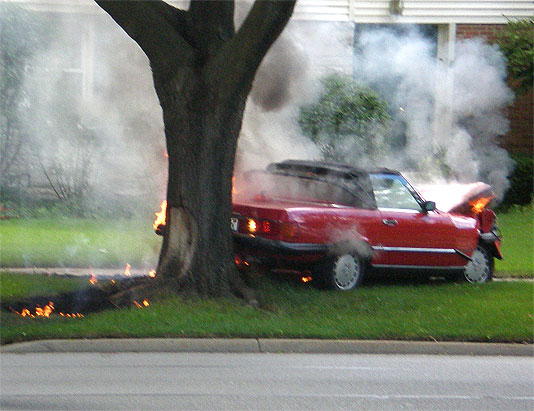 Fire showing from the gas tank area and from the engine compartment … driver is out of the vehicle (Photos courtesy Sabrina W).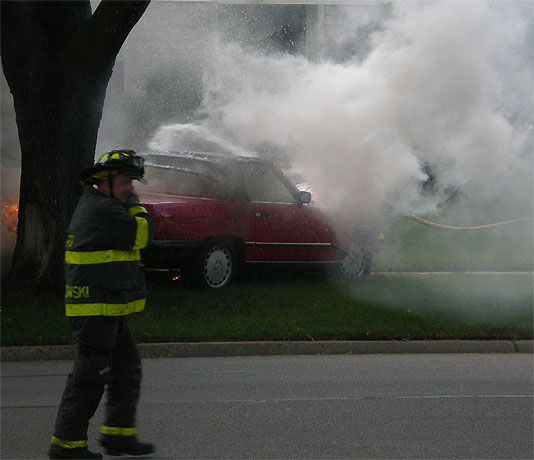 Firefighters with a line out to the front of the car and engine compartment (Photos courtesy Sabrina W).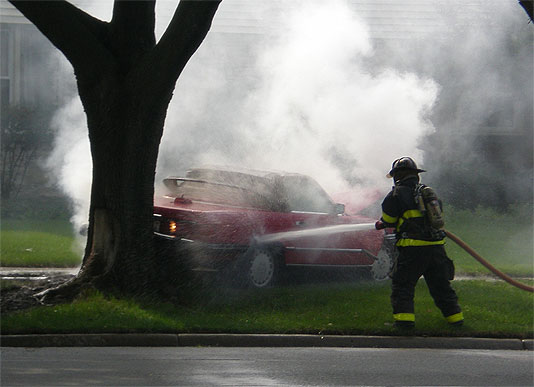 Hose line on the rear and gas tank area of the Mercedes convertible
(Photos courtesy of Sabrina W).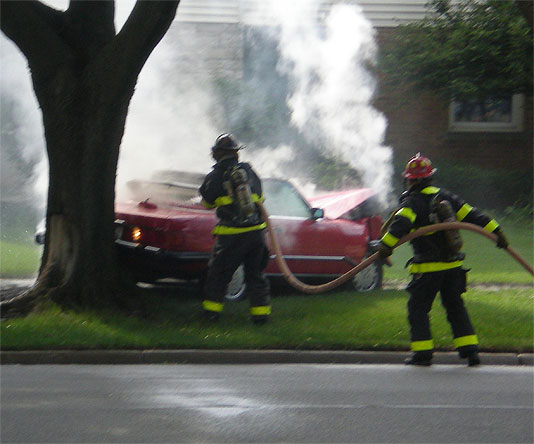 Firefighters maneuver around the car to strike out the car fire
(Photos courtesy of Sabrina W).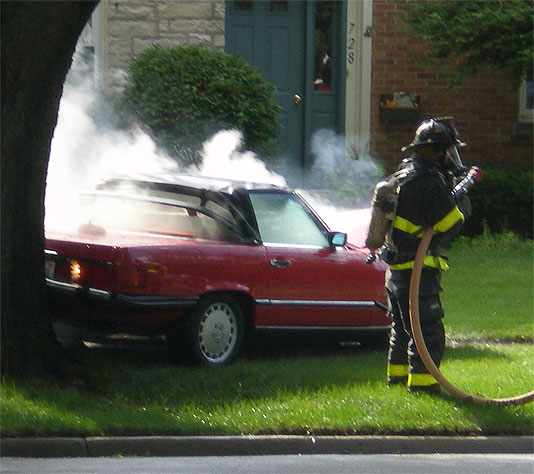 Firefighter prepares for one last hit with the hose line to cool off the fire
(Photos courtesy of Sabrina W).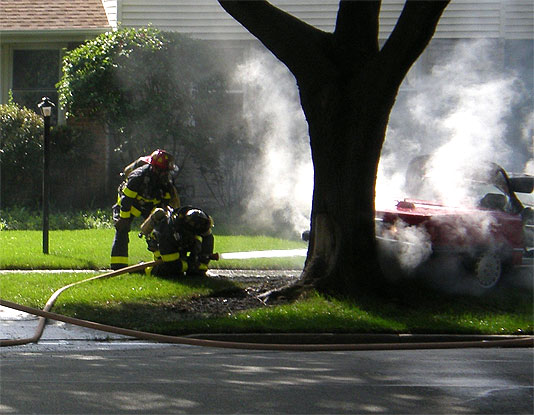 Direct water cooling on the gas tank of a wrecked Mercedes convertible
on Dryden (Photos courtesy of Sabrina W).