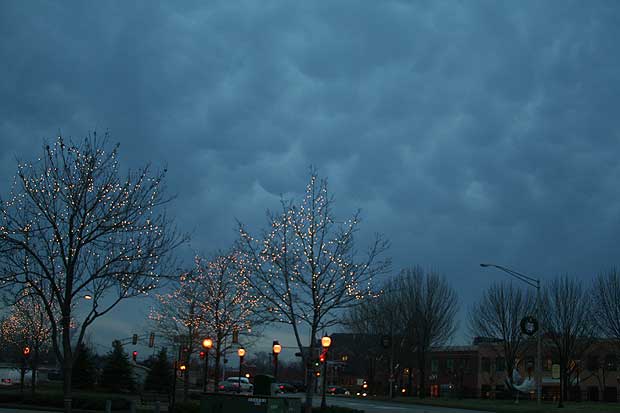 Cumulonimbus mammatus clouds at about 4:45 p.m. on January 7, 2008 over downtown Arlington Heights (facing southeast).
Cumulonimbus mammatus clouds on January 7, 2007 over downtown Arlington Heights occurred while the area was under a Tornado Watch. These clouds represent the lower portion of a cumulonimbus cloud that appear as a pouches or udders under ceiling of the cloud. Cumulonimbus mammatus do not cause severe weather, but they often precede or accompany storms and are associated with severe turbulence in the lower sections of the cloud.
The obsolete term for these type of clouds is cumulomammatus.
Tornado touchdowns were reported in Poplar Grove [MAP/SAT] and Harvard, Illinois about 3:30 p.m. In Harvard in McHenry County, damage to several homes, a trestle bridge, and toppled freight train cars at Oak Grove and Lawrence [MAP/SAT].
The official high temperature at O'Hare International Airport reached 64