YouTube Video (O2F7pfk16yY) no longer available.
ABC7 NEWS interrupted by a minivan crashing through the studio's sidewalk window at 190 North State Street.
The crash occurred while Ravi Baichwal was handing over the air to onscene reporter Michelle Gallardo, who was reporting on a high wind weather story.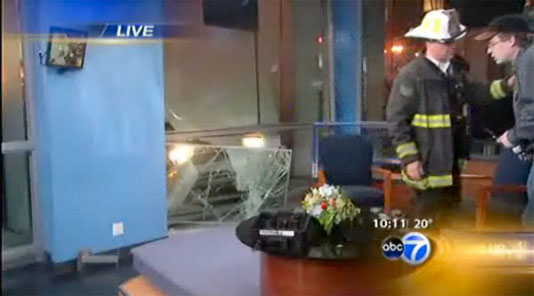 Firefighter officer talks to ABC7 studio staff member immediately after the accident.
Shortly after the beginning of the 10 pm. news: "A loud, loud bang"…"Terrifying for colleagues working at ABC" …
Meteorologist Phil Schwartz had just finished his weather forecast and said the crash, "shook the entire building." About the concussive blast that was "unbelievable" and occurred about 15 to 20 feet to the right of Anchor Ravi Baichwal — Ravi said you could sort of feel something in your chest for 90 minutes afterward.

View Larger Map of ABC7 Chicago Studio where a minivan crashed through a sidewalk window.
As police tried to arrest the driver, he started to resist. Minivan driver Gerald Richardson, 25, faces charges of felony criminal damage to property, two counts of resisting arrest, reckless driving and operating a motor vehicle without insurance.
The outer pane of glass took the force of the crash to block the car from full intrusion into the studio. Only the cold 20°F outside air made it deep into the studio. The special glass was designed to stop cars. The studio opened April 10, 2006. WLS President Emily Barr said the glass worked the way it was supposed to work — to protect people. Concrete barriers have been placed in front of the studio for security until the special glass can be replaced.
See also …
abc7chicago.com