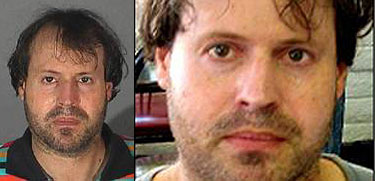 File photos of Jack McClellan.
Self-described pedophile Jack McClellan, who's been living out of his car in the Los Angeles area in Southern California, says he's leaving the state of California. FOXNEWS reported Monday on a televised report that the Chicago area was a possible destination, since McClellan has contacts in Chicago.
McClellan operated a now-defunct web site (with a name of 'Seattle Tacoma Everett Girl Love') in the State of Washington where he posted photos of children he photographed in public. He has never been charged with molestation. On the website he discussed his techniques and how he liked to stake out parks, public libraries, fast-food restaurants and other areas where little girls, he called "LGs," could be found. Millions of parents were disturbed and kept a close watch on McClellan's whereabouts when he moved from Arlington, Washington in Snohomish County to California earlier this summer.
Monday, August 13, 2007, McClellan was arrested on suspicion of violating a statewide restraining order prohibiting him from coming within 30 feet of any child in California after he allegedly was spotted with a camera near the Infant Development Program at the University of California, Los Angeles. He was released after a short period but was arrested again after witnesses reported him in violation of the restraining order while he was interviewed by the media. McClellan was kept in jail for about one week and was released from jail on Aug. 21 after prosecutors decided against proceeding with a criminal case accusing him of violating Superior Court Judge Melvin Sandvig's initial order.
Friday, August 24, 2007, Superior Court Judge Melvin Sandvig issued a permanent injunction and a three-year restraining order that prohibits McClellan from coming within 30 feet of schools, playgrounds and other places where children congregate. Sandvig's new ruling also bars McClellan from contacting, videotaping or photographing children or publishing their photos without written consent from a guardian or parent. McClellan could be arrested if he violates that prohibition.
Initially, Jack McClellan was to be represented by the American Civil Liberties Union, but McClellan was informed that the ACLU will not be representing him. McClellan has been left to represent himself.
Several blog sites have a mission to keep watch on Jack McClellan. Some bloggers tracking McClellan put out alerts on Sunday to be on the lookout for McClellan, 45, with the Washington license plate of 915WEX.

See also …
americanandproud.net
jackmcclellan.com
Southern Sass on Crime — southernsassoncrime.com
texasfred.net