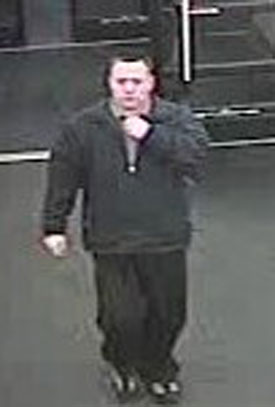 An 8-year-old boy was sexually assaulted Saturday afternoon, December 9, at a crowded Wal-Mart store in Mount Prospect, Illinois [MAP/SATELLITE]. Police are looking for the man shown above (from WalMart surveillance images). Police say cameras in the store have confirmed the man appeared to be watching, following and stalking his intended victim for at least a half hour before approaching him in the electronics aisle.
The boy's mother was with her son inside the store. She turned away for a few moments while he was playing a video game. Police say the unidentified man approached him, led him to another part of the store, fondled him and then left the store. The boy did not require medical treatment and the boy and his mother did not know the man.
Police are investigating the sexual assault at the Mount Prospect WalMart and asking for help in identifying the man.
Mount Prospect Wal-Mart website
UPDATE: Suspect Captured in Oklahoma. Kenneth Vernon, a registered sex offender, is accused of sexually assaulting an 8-year-old boy at a Wal-Mart in Mount Prospect on Saturday.
Mount Prospect police had been tracking Vernon since he fled during an attempted arrest near his home in Wheeling Thursday night night. Police followed his cell phone signal and notified police in Oklahoma about his possible location. Vernon was arrested on Interstate 40 near the town of Clinton, Oklahoma, about 9 p.m. Friday night [80 miles west of Oklahoma City — MAP | SATELLITE ZOOM | MAP route from Wheeling (speculated/estimated trek)].