Arlingtoncardinal.com/MHZ provides information about the FM spectrum in MHz in Chicago. For information about the American public broadcaster specializing in international television programming, see MHZ Worldview …
Welcome to CARDINAL NEWS Chicagoland FM radio stations. Touch the SQUARE (left) for Facebook, or Dial it up from 88.7 to 106.7 MHz with the LISTEN link …
88.7 LISTEN …
WRME-LP (87.7 MeTV FM) is technically and legally a television station with channel 6 analog TV frequency can be heard on 87.75 MHz on the FM band. WRME-LP is also available locally on Xfinity channel 877, both broadcasting gold adult contemporary format branded as MeTV … MORE INFO (when last checked MeTV FM was not streaming online).
92.7 LISTEN …
WCPY (92.7 FM) is a radio station licensed to Arlington Heights, Illinois. WCPY simulcasts a Polish format during the day.
LISTEN 92.7 WCPY and Dance Factory at night until early morning (FB.com/DanceFactoryFM). Last time we checked there was no stream functioning for Dance Factory, but WCPY seems to be streaming their Polish format 24 hours-a-day.
93.1 LISTEN …
WXRT 93XRT, Chicago's Finest Rock Adult album alternative Entercom
93.9 LISTEN …
WLIT-FM 93.9 Lite FM Adult contemporary iHeartMedia
94.7 LISTEN …
WLS-FM Chicago's Classic Hits Classic Hits Cumulus Media
95.1 LISTEN …
WIIL 95 WIIL Rock Active Rock Alpha Media
95.5 LISTEN …
ROCK 95.5 CHICAGO iHeartMedia
96.3 LISTEN …
WBBM-FM B-96 CHR/Top 40 Entercom
97.1 LISTEN …
WDRV The Drive Classic rock Hubbard Broadcasting
97.9 LISTEN …
PLAY WCKL-FM K-LOVE Contemporary Christian Merlin Media, LLC
klove.com
98.7 LISTEN …
WFMT 98.7 WFMT Classical music Window To The World Communications, Inc.
99.5 LISTEN …
WUSN US99 Country music Entercom
100.3 LISTEN …
live.wshechicago.com/listen
WSHE-FM Chicago's WSHE 100.3 Adult hits Hubbard Broadcasting
100.7 LISTEN …
WRXQ 100.7 RXQ Classic rock NextMedia Group (NM Licensing LLC)
101.1 LISTEN … 101wkqx.com
LISTEN WKQX 101 WKQX Alternative rock Merlin Media, LLC
101.9 LISTEN …
WTMX The Mix Hot AC Hubbard Broadcasting
102.3 LISTEN …
WXLC 102.3 XLC Hot AC NextMedia Group
103.5 LISTEN …
WKSC-FM 103-5 Kiss FM CHR/Top 40 iHeartMedia
104.3 LISTEN …
WBMX 104.3 JAMS Classic hip hop Entercom
105.1 LISTEN …
WOJO La Que Buena 105.1 Regional Mexican Univision Radio
105.9 LISTEN …
WCFS-FM News Radio 780 & 105.9 All-news radio CBS Radio
106.7 LISTEN …
WPPN Amor 106.7 Spanish AC Univision Radio
Antenna Site Locator
radio-locator.com
en.wikipedia.org/wiki/media_in_chicago
NO CHICAGO MHz COUNTERPART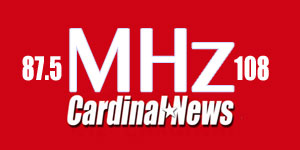 DEFUNCT FM