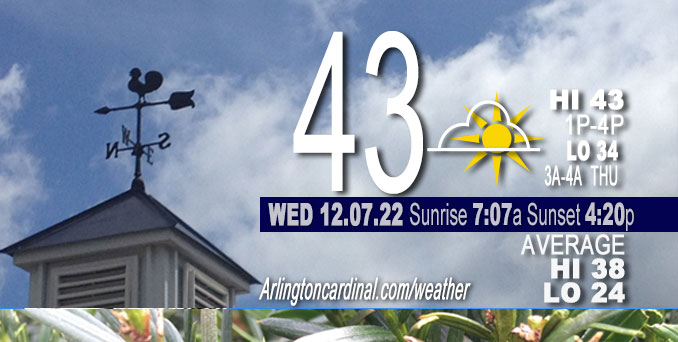 NWS CHGO | NWS HRLY | /NWSchicago | 🌡
ARLINGTON HEIGHTS WEATHER
▴ forecast7 (Arl. Hts.) | RADAR | WIDE RADAR




O'Hare (history KORD, left)
⏪ Hrly Data Table | Hrly Future Graph ⏩
IMPORTANT NOTE ON NWS DATA
Arlington Heights (history KPWK, left)
⏪ Hrly Data Table | Hrly Future Graph ⏩
======================
Wednesday and Wednesday Night …
Weather Hazards expected…
Hazardous Weather Outlook
National Weather Service Chicago/Romeoville IL
341 AM CST Wed Dec 7 2022
Winnebago-Boone-McHenry-Lake IL-Ogle-Lee-De Kalb-Kane-DuPage- La Salle-Kendall-Grundy-Kankakee-Livingston-Iroquois-Ford- Northern Cook-Central Cook-Southern Cook-Northern Will- Southern Will-Eastern Will-Lake IN-Porter-Newton-Jasper-Benton- 341 AM CST Wed Dec 7 2022 /441 AM EST Wed Dec 7 2022/
This Hazardous Weather Outlook is for portions of North Central Illinois…Northeast Illinois and Northwest Indiana.
Weather hazards expected…
Significant Fog Risk this morning.
DISCUSSION…
Areas of dense fog will affect parts of northern Illinois mainly west and northwest of Chicago this morning.
Areas of fog will continue through mid morning and there may be pockets of locally dense fog. Be alert for rapid changes in visibility when driving this morning. Reduce speed and use low beam headlights when driving in fog.
Hello mobile users! If you encounter mobile "unfriendly" weather page, turn your phone sideways for a better view.
======================
O'HARE FORECAST …
Forecast Beginning Wednesday, Dec. 07, 2022
Wednesday: Patchy fog before 11am. Otherwise, mostly cloudy, with a high near 44. Light and variable wind becoming northwest 5 to 10 mph in the afternoon.
Wednesday Night: Mostly cloudy, with a low around 34. North wind 5 to 10 mph.
Thursday: A 30 percent chance of rain after 4pm. Cloudy, with a high near 43. East wind 5 to 10 mph, with gusts as high as 15 mph.
Thursday Night: Rain, mainly after 7pm. Low around 37. East wind 10 to 15 mph, with gusts as high as 20 mph. Chance of precipitation is 90%.
Friday: Rain, mainly before 1pm. High near 42. East northeast wind 10 to 15 mph, with gusts as high as 20 mph. Chance of precipitation is 90%.
Friday Night: A 30 percent chance of rain before 7pm. Mostly cloudy, with a low around 35.
Saturday: A 20 percent chance of rain after 1pm. Mostly cloudy, with a high near 43.
Saturday Night: Mostly cloudy, with a low around 33.
Sunday: Partly sunny, with a high near 44.
Sunday Night: Mostly cloudy, with a low around 32.
Monday: Mostly cloudy, with a high near 46.
Monday Night: A chance of rain. Mostly cloudy, with a low around 38.
Tuesday: Rain likely. Cloudy, with a high near 51.
Weather Forecast, Observations Archive NWS O-Hare
Weather Forecast, Night Sky Archive NWS O-Hare

If you don't see data below this blue header, you are viewing today's current weather while the full day's data is not complete; O'Hare forecast archive and hourly weather observations archive are available HERE on the CARDINAL NEWS Magazine …
KORD & KPWK Hourly Weather Observations









NORTH AMERICA BELOW (SCROLL ⇩⇩)
Weather WIDE (MOBILE TURN SIDEWAYS)
SPC Convective Outlook on
CHICAGOWEATHERSTATION.COM

ChicagoWeatherStation.com I O'Hare Normal Temps/Precip I O'Hare Record Temps, Precip, Snow
LIVE RADAR | STORM TRACKS | UNISYS US IR SAT | UNISYS Midwest IR SAT | UNISYS More IR SAT
WunderMap® with Temperature/Wind Data || Google: Arlington Heights Area Temps | US TEMPS
Full Screen Motion Weather Radar (Wunderground.com)
Midwest Cloud Cover with Arlington Heights Weather Forecast
ChicagoWeatherStation.com I O'Hare Normal Temps/Precip I O'Hare Record Temps, Precip, Snow
SUNLIGHT DATA FOR SECURITY, TRAFFIC SAFETY, AND SPORTS
SunCalc.net data with solar azimuth and trajectory, times for dawn, sunrise, solar noon, sunset, dusk …
Tweets by @CardinalWeather
NIGHT SKY THIS MONTH …
Backyard stargazers get a monthly guide to the northern hemisphere's skywatching events with "Tonight's Sky." Check the night sky objects for this month and past months in the playlist from the Space Telescope Science Institute YouTube channel (Musical track The Far River written by Jonn Serrie, from the album And the Stars Go With You courtesy of New World Music Ltd).
Get updates from The Cardinal ALL NEWS FEEDS on Facebook. Just 'LIKE' the 'Arlington Cardinal Page (become a fan of our page). The updates cover all posts and sub-category posts from The Cardinal — Arlingtoncardinal.com. You can also limit feeds to specific categories. See all of The Cardinal Facebook fan pages at Arlingtoncardinal.com/about/facebook …

Help fund The Cardinal

Arlingtoncardinal.com/sponsor
Area Forecast Discussion
National Weather Service Chicago/Romeoville, IL
543 AM CST Tue Dec 6 2022
.SHORT TERM… Issued at 319 AM CST Tue Dec 6 2022
Through Wednesday…
Forecast focus is primarily on patchy dense fog across southern parts of the forecast area this morning, and timing and coverage of a couple of periods of light precipitation through this evening.
A weak and somewhat now diffuse cold front has pushed across parts of the forecast area since last evening, and was analyzed to be just northwest of the I-55 corridor across northern IL at 2 am CST. Not much push noted behind the front, which is expected to wash out across the southeastern cwa today. Ahead of the front, surface air and dew point temperatures were both in the mid-upper 30s resulting in areas of fog with a few localized 1/4-1/2SM dense fog reports (Peru, Morris and Sugar Grove AWOS/ASOS). Fog will likely linger past sunrise this morning given moist low levels and stalling front. At this time am not expecting visibilities below a mile to become widespread, though areas of 1-2SM fog are likely to persist past sunrise. Thus am not planning on a dense fog advisory, though will certainly continue to monitor trends in case dense fog becomes more widespread.
A little farther to the north, regional radars depict a very narrow band of frontogenetically-forced elevated returns from near the Quad Cities to near Waukegan. RAP/HRRR forecast soundings depict this forcing acting on a region of saturation generally at/above 600 mb with relatively steep (6.5+ C/km) lapse rates. Drier air was noted below that level and further low-level drying is depicted over the next few hours, which combined with expected weakening frontogenetic forcing over the next couple of hours should eventually allow this band to weaken and dissipate through sunrise as the mid-level jet streak exits. While no surface reports of precip have been noted (band is narrow and may not be sampled by AWOS/ASOS network), have maintained slight chance pops north of I-88 prior to sunrise for the potential for a few isolated sprinkles or snow flakes to make it to the surface.
Light rain is expected to redevelop along/north of I-88 by midday however, as another jet streak and associated sheared mid-level vorticity maxima develops eastward across the area and induces renewed frontogenetic forcing within the lingering baroclinic zone north of the stalled surface cold front. This will again be in a relatively narrow west-southwest to east-northeast band similar but likely a little better defined than this morning`s. Light rain is also expected to develop later this afternoon farther south along and south/east of the I-80/I-55 corridors in association with an area of low pressure propagating along the southern portion of the stalled front into southeast Missouri. Precip amounts in both areas are expected to be relatively light, only a few hundredths of an inch, and temperatures will be solidly above freezing. Dry conditions are then expected from after midnight through the day Wednesday.
Temperatures which are currently in the low-mid 30s across much of the area are expected to moderate into the low to mid 40s today, and into the mid-upper 40s Wednesday with a mix of clouds and sun.
Ratzer/NWS Chicago