Rob Sherman, an Illinois man who opposed Christmas, churches, communities with religious symbolism, Christmas nativity scenes, and the display of the 10 Commandments in public places without fair opposing views (i.e., atheism) is believed to have been killed in a plane crash 15 days before Christmas 2016.
Marengo firefighter/paramedics responded about 7:29 a.m. Saturday December 10, 2016 to a report of an aircraft accident in a farm field just south of 6105 Meyer Rd Marengo,IL
Marengo firefighters found one male crash victim, who was pronounced dead at the scene at 7:53 a.m. Saturday.
The single-engine plane belonged to Rob Sherman, according to Federal Aviation Administration the aircraft record for the aircraft N4218 crashed at the scene. The pilot's name was not initially released. The aircraft was listed as not fractionally owned.
The light sport aircraft that crashed was a Zenair CH601XL SLSA — a fixed wing single-engine airplane. The cause of the crash and the exact time of the crash is not known.
Rob Sherman's political technique included engaging opponents with compliments while undermining their ideologies, self-promoting his own methods of living and philosophy and the virtue of a good debate. His efforts succeeded in having religious symbols removed from city logos, but he never gained widespread success in the political arena.
"The 12th District is also home to the City of Marion, where I battled 84-year-old "Mayor for Life" Robert Butler over whether a Ten Commandments monument should be erected on the Town Square, to the exclusion of any other religious perspective. Mayor Butler is actually a nice guy. He was first elected Mayor in 1963 and is still Mayor, 53 years later. Mayor Butler will be 90 years old on January 23, 2017. Happy Birthday, Mayor! I think I'll make your Town Square the first place that I go to circulate my Nominating Petitions in September, 2017."

— Rob Sherman
On his recent campaign website announcing his run for the 12th District Congress in Southern Illinois in April 2018, Rob Sherman proposed eliminating Christmas as a federal holiday and instead making New Year's Eve the new holiday, calling it "Science Day" to restore the loss of the paid holiday on Christmas. Sherman said, "It's time to move past the period in which one person's religion gets special, favored treatment by the government and everybody else gets treated like Second Class citizens."
Sherman also proposed to eliminate God from money and eliminate God from the Pledge of Allegiance, while proclaiming three issues as the foundation of his campaign platform:
"Environmental"
"Labor"
"Fiscal Sanity"
On the campaign page he elaborated about helping labor by outlining his recommended change to federal holidays, including combining Independence Day, Memorial Day and Veterans day into one holiday on July 4. He also proposed the creation of an Opening Day holiday on the first Monday in April to correspond with opening day in Major League Baseball and his own birthday in honor of his creation of the Opening Day holiday. There were no details on his page about how he would tackle "Fiscal Insanity" except replacing income tax with a consumption tax. Instead most of his platform was focused on a tone of eliminating the concept of God while referring to religious bullying and religious crazies.
Sherman also proposed that the United States launch a Congressional investigation into unconstitutional proselytizing at the Air Force Academy and all other branches of the military.
"Cadets, officers and civilian staff have been complaining for years about being pressured to convert to evangelical Christianity by Command Staff and other uniformed personnel. The problem seems to be the worst at the Air Force Academy in Colorado Springs, according to reports that I've read on the Military Religious Freedom Foundation web site.

The Air Force Academy used to display a banner in their football team locker room proclaiming I am a member of Team Jesus. Now, the players do a Christian prayer circle on the football field before the game while wearing uniforms that were issued to them by the federal government to be used for secular purposes. This sort of thing provides Muslim extremists with justification for their call for defensive jihad against America and Americans, claiming with a great deal of accuracy that the American military is on a Christian crusade against Islam.

Our uniformed heroes deserve better than to be nagged by Command Staff to get stupid on Jesus in order to be a good soldier.

Send Rob Sherman to Congress and I'll eliminate the Christian Taliban from the United States Military by launching a Congressional investigation into unconstitutional proselytizing at the Air Force Academy and anywhere else that it exists in our Armed Forces."

— Rob Sherman
Rob Sherman's past activities included eliminating religious symbols from city logos in Palatine, Rolling Meadows, and Zion. He also fought the approval of a Ten Commandments monument placement on the Town Square in Marion, Illinois with the "exclusion of any other religious perspective."
Rolling Meadows and Zion spent about $300,000 each in legal fees to fight Sherman and the atheists' lawsuit to try to keep their old seals. Palatine declined to fight the atheists in court after atheists won their suit against Rolling Meadows and Zion. Palatine changed its seal voluntarily.
The atheists won in federal appeals court, and their favored ruling was affirmed when the U.S. Supreme Court declined to hear appeals by Rolling Meadows and Zion in 1992.
Following his success battling local governments, Sherman was convicted of domestic battery for striking his then 16-year-old son in July 1998. A Chicago Reader article by Ted Kleine reported that Sherman's son testified in court that his father cut up Rick's favorite stuffed animal and placed the shreds in a popcorn bowl for the family to see, and when the older Sherman ran over a mouse while doing his son's lawn mowing job at home, he ran over a mouse. Sherman's son said his dad put the dead mouse on his bicycle seat as a symbol that lawn mowing was the son's job. He also claimed his father hit him every two or three months. Sherman's reputation was tarnished locally, and opponents used the conviction in personal attacks against him.
According to a retired Buffalo Grove police officer, who spoke on condition of anonymity, Sherman was known to have weapons in his home in Buffalo Grove, and any response to the house involved a caution to responding police officers. The information was verified by a second anonymous source. He was known to have at least a semi-automatic handgun and a rifle at the house, according to the sources. He also was required to temporarily surrender the weapons because of a law requiring domestic battery suspects to turn over their weapons. A Chicago Tribune article referred to Sherman as " touting the rights of gun-toters in Buffalo Grove." There was no mention of the 2nd Amendment on his latest campaign announcement.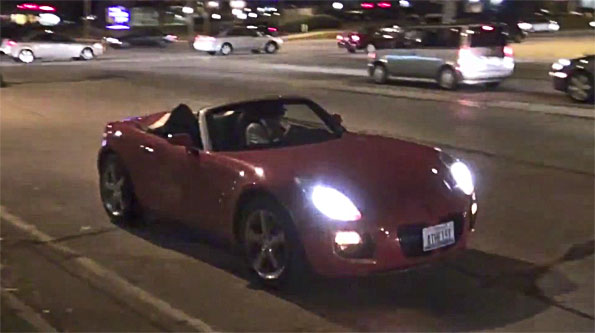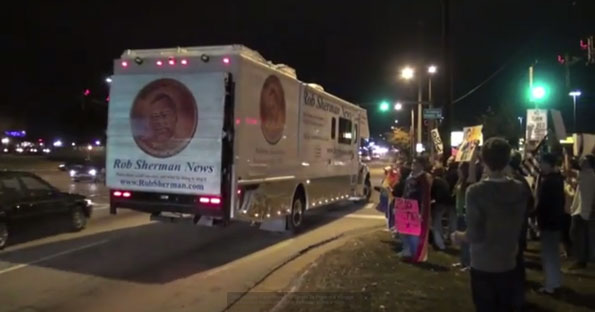 In 2010 Sherman attended a rally against the Westboro Baptist Church that was expected to protest a gay-themed play at Buffalo Grove High School. The Westboro Baptist Church never showed. Sherman drove around the rally honking his horn — first in his red sports car with "ATHEIST" license plate, and minutes later in his large campaign truck.
In 2007, after years of struggling financially, and after his travel agency business declined when he lost customers because of the domestic battery conviction, Sherman received a multi-million dollar inheritance from his parents. With the new found money for his activism, he called himself Rob Sherman 2.0. He bought a mobile office truck with big bold signage promoting his business and his news site. A logo on the back displayed a Lincoln penny converted to a Rob Sherman penny with Sherman's face and the words In Rob We Trust."
His first legal action — now using paid lawyers — involved a federal lawsuit against a state mandate that required public school teachers to begin the day in the classroom with a moment of silence "for silent prayer or for silent reflection."
In 2008 Sherman filed a lawsuit against the State of Illinois for plans to apply $1 million in state funds to rebuild the Pilgrim Baptist Church that was destroyed (except for exterior walls) by fire on January 6, 2006 at 3301 South Indiana Avenue in Chicago. The church with limestone walls was built in 1890-91 as a synagogue and became a Baptist church in 1922. In 1932 Thomas Dorsey began as music director. Dorsey continued as music director until the late 1970s with singers Mahalia Jackson, Aretha Franklin, Sallie Martin, James Cleveland, and the Staples Singers singing gospel music in the church. Dorsey became known as the father of black gospel music, the church became known as the birthplace of gospel music.
Also in 2008, Rob Sherman bought a single-engine sport airplane for $113,000. The Zenair CH601XL SLSA — a fixed wing single-engine airplane with no co-owners was involved in a fatal crash on Saturday, December 10, 2016 in Marengo.
See also …
The Cardinal No Protest by Westboro Baptist Church, Storm Ends Positive Demonstration By Buffalo Grove High School Students (2010)
Chicago Tribune Atheist aims new weapon in his crusade (2008)
Chicago Reader Rob Sherman's Bad Year (1999)
Chicago Tribune Symbolic End To Row Over Seals (1995)
Chicago Tribune A New Conversion For Atheist No. 1 (1994)
Stay informed with news from The Cardinal's Emergencies Behind the Scenes Facebook page — Facebook.com/CardinalEmergencies. Includes links to favorite public safety and emergency rescuers and product manufacturers and safety companies that have facebook pages. Submit your pictures or just stay up-to-date on with fire, rescue, EMS and police photo galleries. Please add your public safety photo to the wall album — go direct to the Arlington Cardinal Emergencies Behind the Scenes photos. For a list of all of The Cardinal Facebook fan pages, go to Arlingtoncardinal.com/about/facebook …

Help fund The Cardinal

Arlingtoncardinal.com/sponsor
Buffalo Grove High School Counter-Demonstration Westboro Baptist Church Protest of Laramie Project