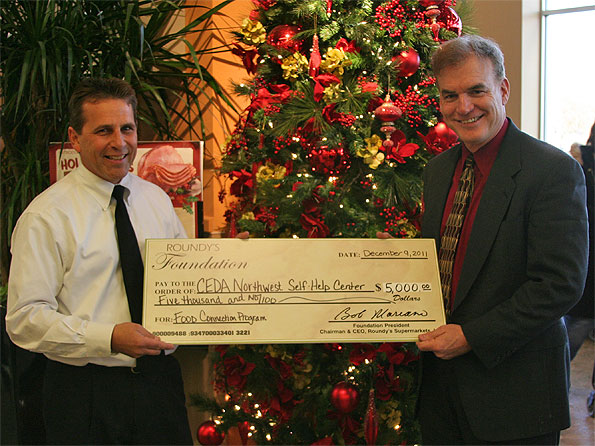 Mariano's Fresh Market-Arlington Heights Store Director, Ken Szymanski presents a $5,000 check to CEDA Executive Director Ron Jordan at the Arlington Heights Mariano's Fresh Market store.
Mariano's Fresh Market and the Roundy's Foundation presented a $5,000 check to CEDA Northwest Self-Help Center on Friday, December 9 at about 1:00 p.m. at Mariano's Fresh Market in Arlington Heights.
The money will support the organization's Food Connection Program — a food pantry designed to meet the emergency needs of the community.
CEDA, which is the acronym for the Community and Economic Development Association of Cook County, applied to the Roundy's Foundation; and the board approved the $5,000 contribution.
From the CEDA website …
CEDA Mission Statement:
To work in partnership with communities to empower families and individuals to achieve self-sufficiency and improve their quality of life.
Community Action Promise:
Community Action changes people's lives, embodies the spirit of hope, improves communities, and makes America a better place to live. We care about the entire community, and we are dedicated to helping people help themselves and each other.